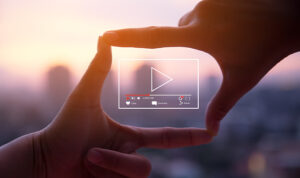 Per the online site Hubspot, more than 50% of your clients/diners/shoppers want to see videos from your brand over any other type of media you are providing.  It is projected that people will consume 100 minutes each day watching online videos in 2021.  With the current pandemic, that number might even be higher.
But you're probably thinking, "Edan, I am so uncomfortable making videos!  What will I even say, aren't they expensive?  I just don't know where and how to get started".
I'm with you.  If you're like me, videos featuring you as the star can be uncomfortable to create and even watch.  But you're in luck, if you're a business professional marketing to other business professionals you only need to provide 1-minute of content.  B2B videos 1-minute or less perform best with 68% of your audience watching the entire video.   Even if you're a business that is marketing to consumers (B2C), keeping it short is the rule since 60% of watchers will tune you out or turn you off after the 2-minute mark.
So now that we know we only need to generate video content of 60-seconds (give or take), lets get started.
CREATE A PLAN
This is where you decide what type of video content you are going to create.  This depends on the type of business you are branding.
Are you a lawyer? 
Feature yourself or maybe a client and speak to the value and/or services you provide such as closings, litigation, bankruptcies, etc.  Since we are in a pandemic, possibly address the current landlord/tenant laws and how to mitigate them. Follow-up videos could explore samples of cases you've handled or complex transactions.
Real Estate agent?
Take your clients on a virtual ride with you through the streets of a neighborhood and talk about  why you're the area expert.  You can touch on school district borders, housing market stats, or even the current night-life.  Virtual open-houses have become highly popular during the pandemic so show your clients a listing.  You can even have your clients play a game of car-pool karaoke on your next showing and let your playful personality shine through.  Testimonials live from clients would also be a great feature.
Are you a beauty services provider like a salon or med spa? 
Create a video of one of your amenities or products and walk through the journey of the client experience.  You can do this by speaking about what you're featuring, capturing the service or even provide a compilation of photographic results.
Are you in food services or do you own a restaurant? 
Mouth-watering food!  Feature a favorite dish being prepared over an open fire or paired with wine favorites.  Review the measures you're taking to keep them safe when they choose in-restaurant dining (ventilation, seating spacing, capacity, etc.).
Entertainment venue? 
Share the experience. Make your client's hearts race or minds open. Give them a first-hand glimpse of riding a water slide or snippets of an attraction, show or new game.  Let them feel the excitement of your brand.  During the pandemic guests may be cautious to return – show them what you're doing to keep them safe.
Consultant? 
Give out free tips and tricks, a how to guide or case studies  – have you seen my Edan Gelt vlog yet?  I not only recommend vlogging, I also practice it.
Once you've decided what you're going to feature during your segments – consider what is the most important thing you will be sharing about your business/service/product and say it right at the beginning of your video.   For example – today, I'm going to walk you through a HydraFacial or I'm going to tell you about the new tenant law passed during the pandemic.  Or, let me tell you about our fantastic chicken alfredo, water ride, marketing tip, new product, etc. Then take them on 1 or 2-minute journey.
 3…2…1…ACTION
It's game time and there is no fancy equipment required.  Are you ready to film? Just take out your handy phone, iPad or computer and let's start rolling!
Depending on the type of content you are looking to share, you can record 1-minute clips straight thru or you can film individual segments and patch them together with film editing software such as imovie, Open Shot, Movie Maker 10 and more.  If you're not handy with editing, you can hire someone (or recruit your children).  You can also just publish raw and real footage.  Depending on your business type and brand, sometimes having unedited content may even help you connect better to your client base.
CONSISTENCY IS KEY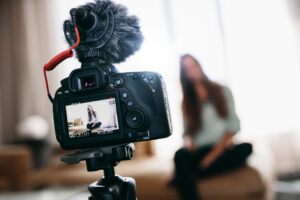 Once you've made your first video or VLOG (fancier term), you're on your way but you can't stop now.  You need to generate content consistently.  This can be several times per week, once per week, or even once per month.  Just stick with it.
Follow my next VLOG or blog to learn how to use your videos.
Instagram | Facebook | Twitter | LinkedIn | Pinterest | WordPress Blog | Tumblr | Etsy | Quora | Crunchbase